Highest industrial safety rating
Certified to meet EN/ISO 13849-1 (PL e / Cat. 3) and EN/IEC 62061 (SIL 3). Over the past 3 years AIRSKIN® has helped customers achieve a more cage-free work environment.
Safe collisions, even with industrial robots
AIRSKIN will detect all collisions with the robot and associated tooling (free-space, clamping and shearing) and brings the robot to a halt.
AIRSKIN® is designed to meet ISO 10218 and ISO/TS 15066 standards.


Clamping/shearing collisions
For clamping/shearing collisions the robot's stopping distance must be shorter than the thickness of the soft AIRSKIN®. Permissible speeds must be obtained by measuring contact forces occurring in the collision using an ISO/TS 15066 compliant measurement device.
AIRSKIN® enables ISO/TS 15066 compliant collaborative applications


Collaborative applications
AIRSKIN® enables ISO/TS 15066 compliant collaborative applications.
Dual channel OSSD safety device

AIRSKIN® is a PLe / Cat. 3 safety device which is easily connected via its 6 wires to any safe I/O of any robot controller.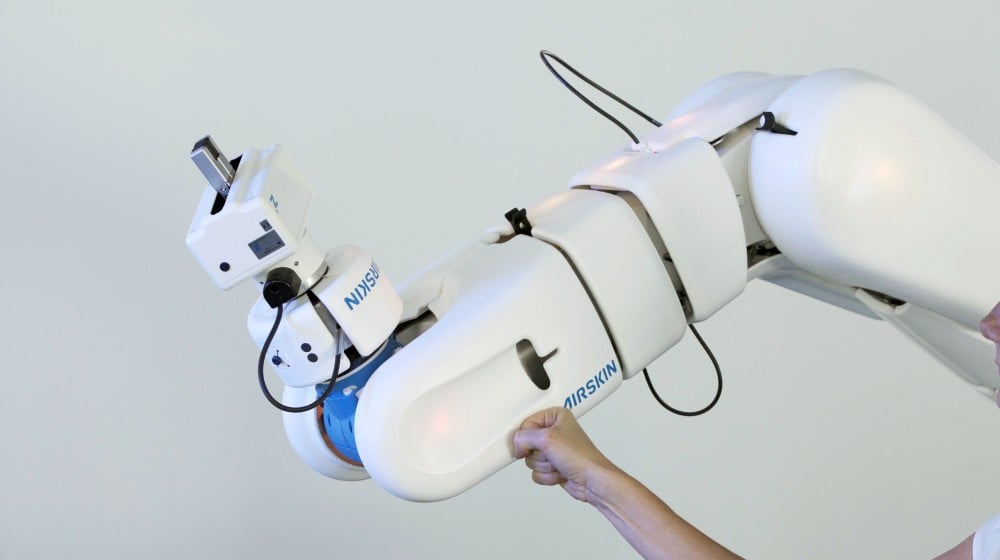 To activate AIRSKIN, only 5N of force is needed. The soft, thick pads will dampen collisions, absorb collision energy and avoid any high local pressures (see force and pressure limits in the ISO/TS 15066).
Frequently
Asked Questions
Make sure your robot is ready for ISO/TS 15066, meaning safe position and speed monitoring. With KUKA robots the required feature is called Safe Operation.

Up to 15 AIRSKIN pads can be connected in a series. On larger robots, for example Cybertech, we use four lanes with 12 pads on each lane, grouping them into "gripper", "axis 4-6" and so on.

Permissible speeds are obtained from ISO/TS 15066 using a formula involving robot mass and payload weight.

As with any robot application a risk analysis is mandatory. With AIRSKIN® the procedure is the same as using a lightweight cobot: identify possible collision zones and measure force and pressure. Set the robot speed at this position to meet the threshold in the ISO/TS 15066.