Flexibility
AIRSKIN® makes industrial robots unbeatable in all fenceless applications.

AIRSKIN® is mounted directly on the robot, which gives you the highest level of flexibility.
Highest level of flexibility
Applications with the combination of industrial robots and AIRSKIN® offer the highest level of flexibility. This is due to the unique AIRSKIN® technology, which is mounted directly on the robot.
Applications with industrial robots thus become fenceless collaborative applications. Production and automation processes can easily be designed in a highly flexible manner.
In addition, the higher reach of industrial robots in combination with AIRSKIN® is another advantage in terms of flexibility compared to cobots. Any change in the layout of the automation process is simplified to a minimum.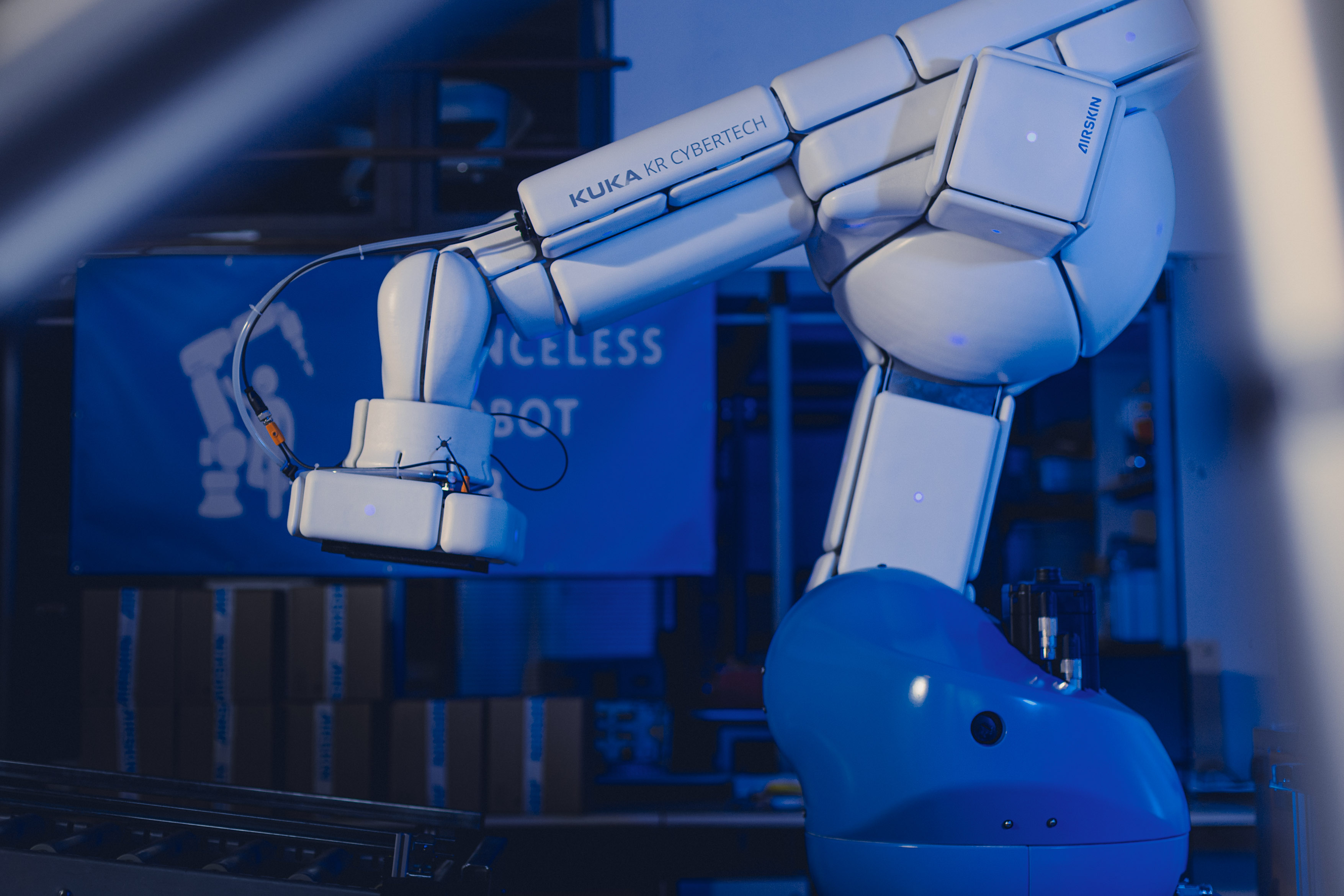 More Flexible Workspace
Increase your capacity and enjoy truly fenceless applications. Reduce your footprint in the shopfloor up to 90%.
Decrease Cycletime
Upgrade your industrial robots with AIRSKIN®. Collaborative movement speeds significantly faster than traditional cobots (up to 1.3 m/s).
Increase ROI
Save costs and increase the ROI of production cells. Add AIRSKIN® to your current industrial robot, allowing advanced levels of safety with the programming interface you are already familiar with.
Frequently asked questions about flexibility with AIRSKIN®
Concerning the hardware, no changes are necessary – whether AIRSKIN is connected directly to the robot or to a Safety PLC. Apart from that, like with any other change in an application, a new risk assessment has to be carried out or the existing one adapted by a safety expert.

AIRSKIN® is currently available for KUKA Agilus and Cybertech as well as for the Stäubli POWER Cobot Series TX2touch-60 and TX2touch-90

In addition, AIRSKIN® Modules can be used for individual solutions and the AIRSKIN® Safetyflange for EoATs.